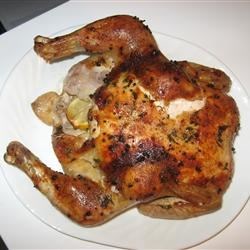 1 (3 lb.) whole chicken, giblets removed
Salt and black pepper to taste (or Montreal Chicken Seasoning)
1 T. onion powder, or to taste
1 T. garlic powder, or to taste
1 stalk celery, leaves removed
Preheat oven to 350°F. Place chicken in a roasting pan, and season generously inside and out with salt and pepper or Montreal Chicken Seasoning. Sprinkle inside and out with onion powder. Place 3 T. butter in the chicken cavity. Arrange dollops of the remaining butter around the chicken's exterior. Cut the celery into 3 or 4 pieces, and place in the chicken cavity.
Bake, breast-side down, uncovered 1 hour and 15 minutes in the preheated oven, to a minimum internal temperature of 180°F. Baste every 20 minutes. Remove from heat, and baste with melted butter and drippings. Cover with aluminum foil, and allow to rest about 30 minutes before serving.
NOTE
:
if you use larger hen then cook time will be longer.
MORE IDEAS FROM READERS:
I followed the direction except I had no onion powder and used a little onion in the cavity. The chicken breasts were not juicy at all and next time (there will be a NEXT time!) I will cook this breast side down. I lined my pan with foil and the gravy/sauce was incredible. One of the top ten gravies I have ever tasted, and that's saying a lot, because my father is a gravy magician. I know there was a lot of chicken fat in it, but this thin light sauce drizzled over roasted vegetables was outstanding! I didn't thicken it or add anything else to it at all, it was salty enough. Overall, fantastic recipe, use as much butter as you want and my trick with the salt is to not just rub it on, but massage it very well into the skin, the better you do this, the better the skin. Dry breasts, use A+ sauce.
I had to make one adjustment to the recipe. I did not have onion powder so I ended up using a packet of the dry onion soup mix which still worked out great.
I added garlic powder and season salt to the outside, otherwise followed the recipe as written. It was perfectly moist, the only drawback is that the seasoning wasn't fabulous. This would be the perfect recipe - it only needs a good punch of seasonings! Next time I will make a spice rub and let it marinate for several hours beforehand.
MMMMMMM.... good! The secret is don't use light margarine - or anything that's got water in it. I use 1/2 olive oil & 1/2 butter - melted together and then brushed over chicken & splash the rest inside. I add an onion inside with the celery. Adding any broth or water makes for a more stringy, chewy, dry chicken. Also, don't cover it, because you don't want to trap any steam. I cook it low & slow at 325 until the thermometer reads 170-ish deg. Then take it out to rest & let the temp. Rise to 180. Chicken heaven! This works with cut up chicken pieces too!
Garlic powder, rosemary, onions, onion powder, mushrooms, and celery and came out even better!
Also, I was out of the onion powder and so I used garlic powder instead, I also lifted the skin on the breasts and massaged some butter under it, makes the skin crispy. Yumm.
I have tried this recipe with Promise Lite Spread and it came out juicy as ever. Recipe calls for margarine and I am happy to say low fat or lite works just as good.
Great recipe! Though, I had to use different ingredients to season the chicken. i didn't use salt and pepper. I used Cajun seasoning and rubbed it outside and inside the chicken. I stuffed the butter/margarine inside the cavity like it says in the recipe but instead of using onion powder I stuffed onion wedges inside the chicken. I also added crushed garlic cloves and about 2-3 sprigs of rosemary. If you're too lazy to baste chicken, you can inject olive oil (or garlic infused olive oil) in the breast and the thigh to make it really, really moist. It's such a no-brainer. Thanks for the recipe.
***
Added some potatoes to the pan and brushed over them with some olive oil since the margarine was not melted yet. Yum!