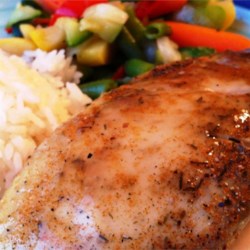 1 (4 pound) whole chicken
salt and pepper to taste
1 large lemon, sliced
6 cloves garlic, sliced
6 sprigs thyme
Preheat oven to 325 degrees F (165 degrees C).
Place a large sheet of parchment paper into the middle of a roasting tray (or prepare as per directions for my
Juicy Roast Chicken
. The parchment must be large enough to completely envelop the chicken. Season the chicken with salt and pepper, stuff with half of the lemon slices, and place breast side up in the middle of the parchment paper. Sprinkle garlic slices, and thyme sprigs evenly over the chicken. Lay the remaining lemon slices over the breast. Fold the parchment over the chicken forming a loose parcel.
Bake in the preheated oven until the chicken has cooked, about 1 1/2 to 2 hours. A meat thermometer inserted into thickest part of the thigh should reach 180 degrees F.
NOTE:
Instead of slicing the garlic I used a paring knife to poke holes in the breast and inserted the whole garlic cloves right in. There was a nice garlic flavor throughout the chicken. I took another reviewer's suggestion and opened up the parchment paper during the last 30 minutes so the chicken could brown.