Homemade Ketchup From Tomato Paste ~ Type

O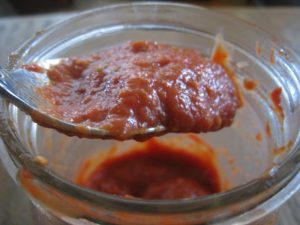 1-6 ounce can tomato paste
1/4 medium onion
1 clove garlic
1 Tbsp honey (Don't have honey? No worries, any sweetener will do!) Only Type-O, though.
3/4 tsp salt
1/2 tsp cumin
1/4 tsp dry mustard
1/4 tsp cinnamon
pinch of cloves
pinch of allspice
cayenne pepper to taste
2 Tbsp lemon juice
1. For easy clean-up, add all of the ingredients to a wide-mouth glass canning jar and mix with a stick blender.
2. Slowly add water (approximately 1/4 to 1/2 cup) to mixture while blending until desired consistency is reached.
Enjoy
Store in covered jar in the refrigerator. Should stay fresh for 7 to 10 days.
Adapted from recipe at: http://frugallysustainable.com/2012/01/make-your-own-homemade-ketchup/