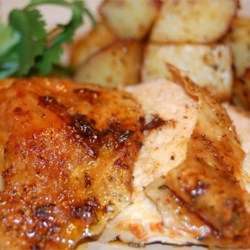 4 teaspoons salt
2 teaspoons paprika
1 teaspoon onion powder
1 teaspoon dried thyme
1 Tablespoon sugar
1/2 teaspoon cayenne pepper
1/2 teaspoon black pepper
1/2 teaspoon garlic powder
2 onions, quartered
2 Tablespoon minced garlic
2 large (4 lb.) roasting chicken
In a small bowl, thoroughly combine all the spices.
Remove neck and giblets from chicken, boil in 2 to 4 cups water until done. Let cool a bit then place in fridge for gravy with the roast chicken, or place in freezer for use at some other time when a recipe calls for chicken broth.
After removing neck and giblets, wash & rinse chickens inside and out then pat dry with paper towels.
Rub the spice mixture into the chicken, both inside and out, making sure it is evenly distributed and down deep into the skin. Stuff cavity of both chickens with the onions and minced garlic.
Place chickens in a resealable bag or double wrap with plastic wrap. Refrigerate overnight, or at least 4 to 6 hours.
Preheat oven to 250 degrees F.
When ready to roast chicken, remove from plastic, and place in a shallow baking pan. Bake uncovered for 5 hours, to a minimum internal temperature of 180 degrees F.
When the chicken is done, drizzle some pan drippings over it, the chicken will suddenly glisten and look picture perfect for the table. Let the chickens stand for 10 minutes before carving. Make spelt flour gravy with the remaining pan drippings.
Readers' Suggestions:
1. I love this recipe and make it often. My only suggestion is to get a jar and mix up a lot of the seasonings at one time to keep in your cabinet. I changed the servings to 64 and the ingredients came up in cup and tablespoon amounts for easy mixing. Then when I make a chicken I have the "mix" at my fingertips. It takes 3 to 4 tablespoons of mix per chicken...... I normally make this in the crockpot for easy cooking, but the roasting it in the oven yields better results.
2. And here's another tip for those days where I can't find 5 hours to spare to roast a chicken: I take 5 or 6 chicken breasts with bone, I skip the onions & skip the overnight marinating step. Instead, toss seasonings & chicken in a large oven roasting bag, shake till chicken are all evenly coated. Bake in 350 oven for 1-1/2 hours. MOST REQUESTED CHICKEN in my household! I highly recommend this recipe!!
3. I did not have a whole chicken, but had wings as I always do. I greased my roaster pan with little oil then laid layers of onions in my pan I laid my wings over my onions I roasted for three hours then I put my rack in my roaster pan and put my wings on the rack and cooked 1 1/2 hours more, this was the best chicken ever, can not wait to roast a whole bird. but it's good to know that chicken pieces work as well. My wings came out very juicy and moist. this is more than a 5 star chicken. YOU MUST TRY IT!!!!!!
Adapted from recipe at: http://allrecipes.com/recipe/roast-sticky-chicken-rotisserie-style/