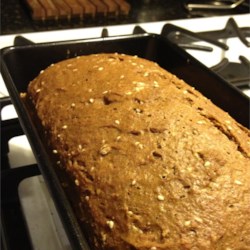 8 cups spelt flour
1/2 cup sesame seeds
1/2 teaspoon salt, or to taste
1 tablespoon blackstrap molasses or honey
2 to 2 1/2 teaspoons baking soda
1 tsp baking powder (optional)
4 1/4 cups almond milk
Preheat the oven to 350 degrees F (175 degrees C). Grease two 9x5 inch loaf pans.
In a large bowl, mix together the spelt flour, sesame seeds, salt, molasses, baking soda and milk until well blended....i.e.: stir until you're sure it's well mixed, then stir some more. Divide the dough evenly between the prepared pans.
Bake for 1 hour and 10 minutes in the preheated oven, or until golden. NOTE: If using mini loaf pans bake for 30 minutes.
Lay aluminum foil loosely across each pan (buttered so it won't stick to the bread); remove the foil with about 20 minutes left on the clock. Now it is beautiful as well as tasty.
If bread is not eaten within 2 days keep refrigerated or freeze what is left over, because spelt goes SOUR after a couple days and it will taste terrible!
VARIATIONS TO TRY:
1. Cinnamon-Raisin...Add 3/4 cups raisins (soaked in water for 15 minutes and drained) and 2 tsp. cinnamon ... when toasted with butter is fantastic!
2. Substitutes... instead of sesame seeds use half poppy seeds and half crushed blanched almonds; no molasses, use part brown sugar and part maple syrup.
3. Add about 1/8 cup honey along with the 1 T. molasses.
4. To remedy the fall apart nature of spelt bread, always add about 1 tsp. xanthan gum or guar gum powder during the mixing.
5. Substitute a mix of quinoa & flax seeds for the sesame seeds and 1/4 cup of honey instead of the molasses.
6. Comment on original site (see below): "I feel it needs double the molasses and double the salt, plus 1/2 tsp guar gum for each cup of spelt flour. A tip: You can also use double the sesame seeds or add another kind of seed, like pumpkin seeds. Even pine nuts are awesome in this bread."
7. Add 1 1/2 cup raisins and 1 T. cinnamon. I also add 1 1/2 tsp. xanthan gum so it won't be so crumbly.
8. Halve the recipe, add 1/2 tsp xanthan gum and make them as hamburger buns. Reduce baking time to 25 to 30 minutes. Makes about 6 hamburger buns.
9. Try adding different herbs &/or a little garlic and onion.
10. Before placing into prepared pans roll the loaf of dough in sesame or other seeds.
11. Make a savory, tomato-and-herb version for dipping in warm olive oil.
12. Add 1 tbsp of cinnamon and a handful of walnuts to the batter. It makes amazing toast and a gourmet sandwich.
13. Add about 2/3 to 1 cup dried fruits, like cherries, cranberries, etc.
14. Make a half recipe into muffins, adding a 1/4 cup of sugar and 3 over-ripe bananas. This cooks for 30 min. at 360F (1/2 recipe = 18 muffins. The texture is so moist & spongy... it stretches and springs rather than crumbling. Very good!
Adapted fro recipe found at: http://allrecipes.com/recipe/very-simple-spelt-bread/detail.aspx