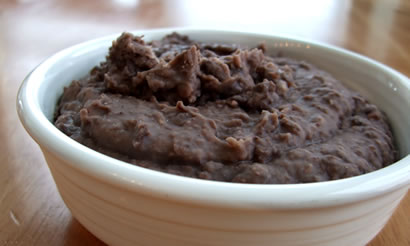 3/4 cup black beans
1/2 teaspoon ground cumin
1/2 teaspoon ground cayenne
pinch of chili flakes
1/2 lime
1 tablespoon cilantro, chopped finely
Rinse black beans under cold water. Place into a bowl. Mix in spices and lime juice. Mash beans with a fork until it is the consistency of a paste. If the mixture seems too dry, add some more lime juice.
Mix in chopped cilantro.
Great as dip or for tacos, & enchiladas, etc.!