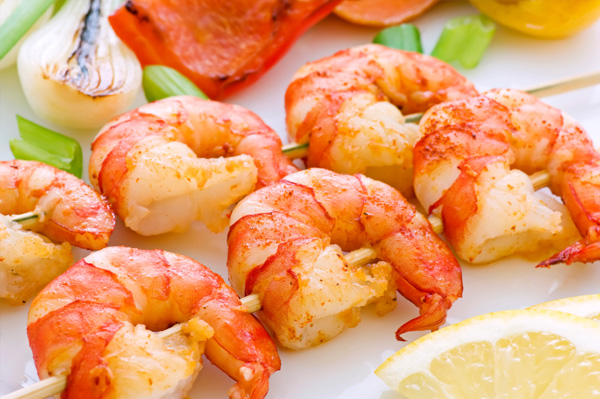 2 teaspoons kosher salt
2 tablespoons sugar or sweetener equal to 2 T. sugar
2 to 2-1/2 pounds peeled, deveined shrimp (12 to 15 per pound), rinsed and drained
1/4 cup olive oil
1/4 cup chopped parsley
1 tablespoon grated lemon peel
3 cloves garlic, peeled and minced
1/2 teaspoon freshly ground pepper
Lemon wedges
Preheat oven to 375 degrees F.
Mix salt and sugar / sweetener in a large mixing bowl.
Add shrimp and toss gently to coat.
Cover and chill for 1 hour.
Rinse shrimp well and drain; rinse and dry bowl as well.
Return shrimp to bowl.
Add olive oil, parsley, lemon peel, garlic and pepper; toss to coat.
Thread shrimp on metal or soaked wooden skewers.
Bake for 8 minutes.
Source: http://www.sheknows.com/food-and-recipes/articles/827697/5-spring-appetizers#