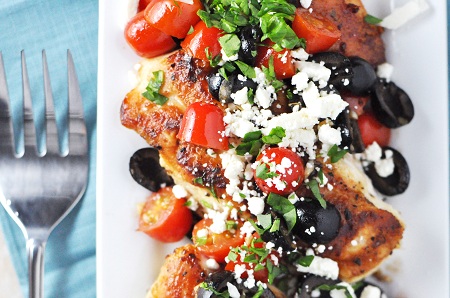 Yield = 6
1/3 cup spelt flour
A few pinches of dried oregano
A few pinches of ground black pepper
A few pinches of coarse salt
1 1/2 lbs, boneless skinless chicken breast, cut in half lengthwise (3 chicken breasts in the package)
3 tablespoons olive oil
2 garlic cloves, roughly chopped
1/2 pint grape tomatoes, halved
3 oz of large black olives, pitted and halved
1/2 cup crumbed feta
Small handful of baby spinach, chopped
1. Heat 2 tablespoons of the oil in a large skillet over medium heat.
2. Place the flour on a large plate and scatter oregano, pepper and salt on top. Dredge each side of the chicken breast in the flour and set carefully in the heated oil. Repeat for each breast and cook for 4-5 minutes until browned.
3. Flip the chicken breasts over and cook for another 3-4 minutes or until the internal temperature of the chicken is 165 degrees. Meanwhile prepare the remaining ingredients.
4. Remove the chicken from the skillet and set aside on a platter. Turn the heat to low, add the remaining tablespoon of oil into the pan followed by the garlic. Stir for 30 seconds and then add the tomatoes and olives and cook, stirring often for 1-2 minutes.
5. Top the chicken with the tomato-olive mixture, followed by feta and baby spinach (or mint, oregano, parsley, basil etc).
Adapted from recipe at: http://www.savoringthethyme.com/2012/05/cvs-extracare-rewards-purse-to-plate-series-%E2%80%93-greek-inspired-chicken-breast-recipe/