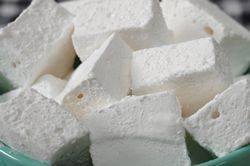 1/4 Cup Arrowroot or Tapioca Starch
1/3 Cup corn-free Confectioners Sugar *see homemade version below
1 envelope Unflavored Gelatin
1/3 Cup Water
2/3 Cup Granulated Sugar
1/4 Cup 100% Pure Vegetable Glycerine or 1/2 Cup GF Brown Rice Syrup
2 tsp. Vanilla Flavoring (optional if using Vanilla Sugar)
Pinch Salt
Sift the starch & confectioners' sugar into a bowl. Set aside.
Spray an 8x8 square pan & sprinkle in 1 Tablespoon of the starch & sugar mixture. Cover the bottom & sides of pan. Leave any excess in the pan.
Sprinkle the gelatin into the water in a small pan & let soften for 5 minutes. Add the granulated sugar & stir over low heat until the gelatin & sugar dissolve. In the bowl of an electric mixer combine the gelatin mix, syrup, salt, & vanilla Beat for 15 minutes on HIGH speed until peaks form.
Spread this mix into the prepared pan & smooth the top. Allow to set at room temp about 2 hours.
With a wet knife cut mix into quarters & loosen sides.
Sprinkle remaining starch/sugar mix onto a cookie sheet & invert the marshmallow blocks. Cut each quarter into 9 pieces & roll each piece in the starch sugar. Place the marshmallows on a rack covered with a paper towel Allow them to stand overnight to dry the surface. Store airtight for up to a month.
NOTES:
HOMEMADE CONFECTIONERS' SUGAR
1 cup regular table sugar & 1 teaspoons starch (i.e. tapioca or arrowroot). Blend the sugar and starch in a food processor, or blender. Turn on high until mixture is a fine powder. Measure out the 1/3 cup confectioners sugar the recipe above calls for.
Recipe from: http://www.dadamo.com/cgi-bin/Blah/Blah.pl?b-btdlf1/m-1173891377/